Vegetarian Cooking Class Program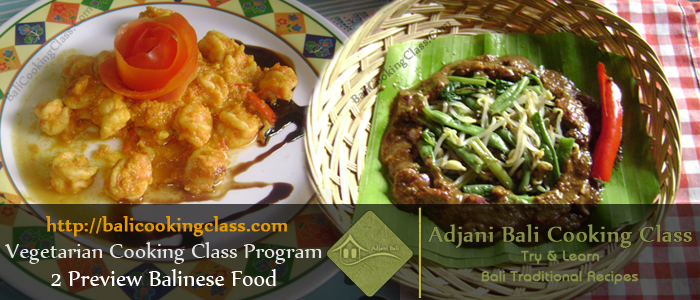 Vegetarian – Balinese Cooking Class Program
Start 10.00am-13.00,only 3 hours
You can learn 5 balinese traditional recipes :
Balinese Curry Recipes
Balinese Gado-gado Recipes
Balinese Sambel Goreng Tempe Recipes
Balinese Vergedel Kentang Recipes
Balinese Bubuh Injin Recipes ( Black Rice Pudding )
Vegetarian – Balinese Cooking Class Program Price and Service :
Minimum: 2 person
Price  : $35/person
Price including : Pick up in Lovina Beach Area, Mineral water (AQUA) , See Our Spice Garden, Balinese Souvenier, Ingridience, Balinese Receipe, Food, Coffee or Tea
Balinese Curry  is combine of some spice in Bali,  We are call " BASE GENEP " . Base is spice and Genep is complete. We use Base Genep from more than 14 kinds of spice,  between : Aromatic, Ginger, Ginger root, Shallots, Red chili, Salam leafes, Lime, Lemon grass, Onion, Dill, Pepper , Turmeric or Safron root, Salt, Coriander etc. You can request we add any spice with vegetables.
Balinese Curry made from some of the vegetables were very good when cooked with Bali special spices. Base Genep (Balinese Spices) will sink in and give special flavor to the curry.
You should try to cook Balinese Curry before you go back to go home and try it at home. Make sure the back to Bali to try our other latest recipes. Happy Learning.
 Balinese Gado-gado Recipes
Balinese Gado – Gado with Peanut Sauce, Gado – Gado is boiled vegetables and Tofu, Tempe ( Soya beans fermented ) and Peanut Sauce. Fresh vegetables such as Bean sprouts, Green beans and other vegetables can be added to the type. All vegetables in boiled and give less traditional spices and also Balinese Peanut Sauce.
Balinese Peanut Sauce is Some peanut give any balinese spice and crushed in a special way to be like souce. The balines peanut souce is very nice on serve with fresh vegetables that have been boiled, with a unique Balinese traditional spices will give a different flavor. Special Recipes will be given before the start of practice, you'll get it at our place.
Balinese Sambel Goreng Tempe Recipes
Balinese Sambel Goreng Tempe is Fried Tempet ( soybeans fermented ) add any Balinese spice than put Lemon leaves for aromatic. Simple recipes are very special, you can certainly try it at home. Get the full recipe and practice with us in Bali.
Balinese Vergedel Kentang Recipes
Balinese Vergedel Kentang ( Fried Poteto ) is Boiled potatoes in the mix with some balinese spices and eggs then made to very crunchy. Very different from the usual boiled potatoes or fries usually. It really Balinese taste. Make sure you try our recipes, you will have a special recipe after tried it in Adjani Bali.
Balinese Bubuh Injin Recipes ( Black Rice Pudding )
Balinese Bubuh Injin or ( Black Rice Pudding ) is pudding is bubur ( in Bali we call Bubuh ), Black rice is Ketan hitam ( in Bali we call Injin ), add sugar and coconut milk.
Booking Vegetarian – Balinese Cooking Class Program